EXPERT AUTO AC REPAIR IN LAKE PARK, FL
Don't burn up over a broken air conditioning system. Keep your cool and bring in your vehicle for an air conditioning inspection, diagnosis, service and repair today in Jupiter and Stuart FL!
Did you know that your air conditioning belt affects more than just your car's AC system?
A broken belt could cause issues and costs far bigger than just your car's AC system blowing hot or warm air instead of cold. All County Auto Repair & Tire shop can find, explain and fix all types of air conditioning repair issues from recharging a refrigerant to replacing a broken compressor at our Jupiter and AC Repair in Lake Park, FL shop service center. Our auto air conditioner servicing is a full service auto solution to make sure your vehicle's air conditioning, cooling and heating elements are in their optimal conditions. No matter the size or scale of the auto AC repair problem or service, the All County AC Repair & Tire air conditioning repair service maintenance experts in Lake Park, FL have the knowledge and experience to keep your car, truck or SUV's auto air conditioner running cool all year long. Our auto air conditioning repair in Lake Park, FL and the surrounding areas will be sure to meet all your car's AC repair needs.
You might need an air conditioner check or air conditioning repair if:
Your car AC system blows cold air only intermittently.
Your car AC system blows hot or warm air.
Your car AC system makes unusual or unexplained noises.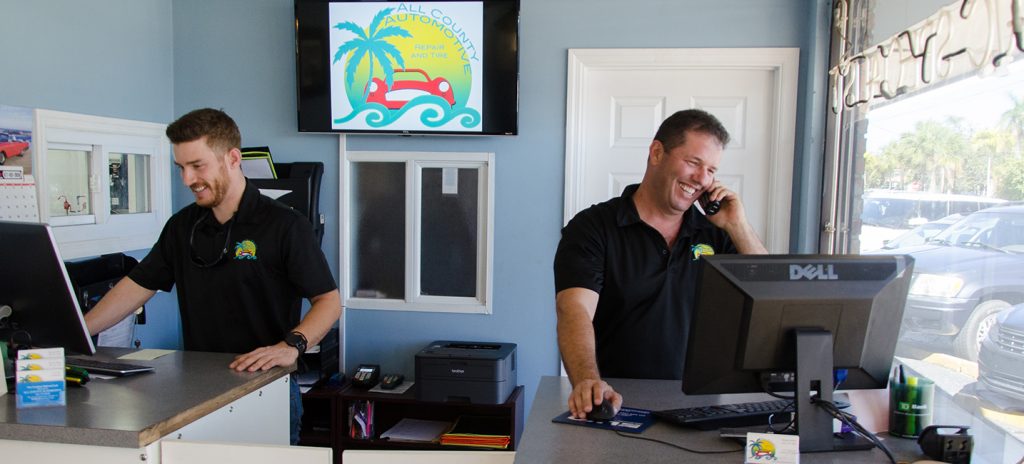 Don't let minor car air conditioning repair issues wait until they become major costs or repairs--schedule an appointment with All County Auto Repair & Tire today! We have locations for service and repair in Lake Park, FL.
Auto Air Conditioning Service & Repair
When was the last time you had a mechanic look at your car's AC system in Lake Park, FL? If you can't remember, then it's been too long and air conditioning repair could be in need of some auto repair. Schedule a car AC repair appointment with an All County Auto Repair & Tire ASE certified expert today and let us help you make sure your air conditioner is running at peak efficiency with a check or service and let us get any issues taken care of with Jupiter and Stuart auto repair for AC. Our Air conditioning repair are locally owned and operated garage shop locations in the Jupiter and Stuart area use the latest AC repair diagnostic equipment available, and our certified mechanics have all the years of technical know-how and experience to service systems in every type of make and vehicle imaginable, including hybrids cars and cars that needs repair. Why suffer through a broken auto AC system when you don't have to? Schedule a repair in Lake Park, FL for an auto air conditioning check or service in Stuart (772-266-8685) or Tequesta (561-747-8320) today!
Every car owner in the Lake Park, FL area should care to know the first basics of their vehicle, so we've included a brief overview of some of the essential auto air conditioning parts and components.
Compressor
The compressor is a device that compresses refrigerant gas via a belt-driven system before transferring it into the condenser. This piece is the heart of a modern vehicle's air conditioning system.
Condenser
The primary function of the condenser is to lower the temperature of the refrigerator in the car. The condenser dissipates the heat that is released by compressed gases before condensing them into liquids that are maintained at a high pressure.
Receiver (Drier)
The receiver is a metal container that stores the refrigerant in the car. It is also commonly called a drier because of its job absorbing refrigerant moisture and filtering out dangerous acids and debris. Driers should be replaced every every three to four years in order to maintain quality filtration and to prevent the risk of chemical damage to the car or driver.
Orifice Tube/Expansion Valve
The orifice tube, sometimes called the expansion valve, controls refrigerant flow throughout the entire system. It is also responsible for converting high-pressure liquid refrigerant from the condenser into low-pressure liquid that can then enter the evaporator.
Evaporator
The evaporator removes heat from the interior of a vehicle. This component allows the refrigerant to absorb heat, when then causes the liquid to boil and change into a vapor. During this process, the vapor moves from the evaporator to the compressor, reducing humidity and cooling the vehicle as it moves. The evaporator holds the majority of the refrigerant during the process of heat transfer, which means that it runs the risk of being irreparably corroded by the harmful acids.
If any of these elements isn't working properly in your car, give All County Auto Repair & Tire a call today and schedule an appointment for auto air conditioner service or repair in Lake Park, FL and the surrounding areas! You shouldn't have to endure a hot car drive when our air conditioning repair in Lake Park, FL is readily available. Our auto repair shop locations provide complete customer service care and auto services for auto AC repair with ASE certified technicians.
About The City of Lake Park, FL
Lake Park is a town in Palm Beach County, Florida, United States. It is known for its laid-back seaside lifestyle that revolves around the ocean. So naturally, fishing, scuba diving, snorkeling, laying on the beach, and participating in various water sports are just a part of life here.
Map of Lake Park, FL